If I look for a nice holiday destination it is sometimes very difficult to find the right place. On one hand I like challenging hunts, especially in Canadian wilderness, on the other hand I like to enjoy the holiday time together with my family.

One place to combine both is Tukii Lodge. Here you can find a real family atmosphere with all you need: friendly people, a comfortable home in B.C. nature, excellent food, a lot of 'toys' like boats, ATV's and trucks and last but not least great hunting opportunities for Moose, Black Bear, Grizzly, Wolf and Mountain Goat.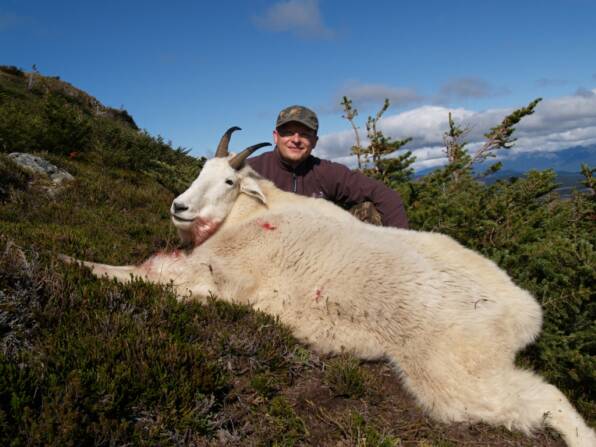 During the following days we relaxed. We caught a lot of fish and cooked them in the campfire. We watched Salmon-catching Grizzlies, Moose, Black Bears and other animals and enjoyed the Canadian way of life and nature by exceptional fine weather.

Unfortunately, every holiday ends and we had to leave but we are certain that we will return, next time in winter for trapline …

René H.

Germany

Therefore, we returned six years after our first stay in September 2008 to Tukii Lodge and we had a very good time there again. Because the first hunting day was very rainy we spent some hours with fishing and our four-year old son caught his first trout, a great adventure for him. But on the second day early in the morning my guide Jack and I started the mountain goat hunt, walked up and, indeed, we found two Mountain Goats on the first mountain. After a short but exciting hunt I took my chance and shot the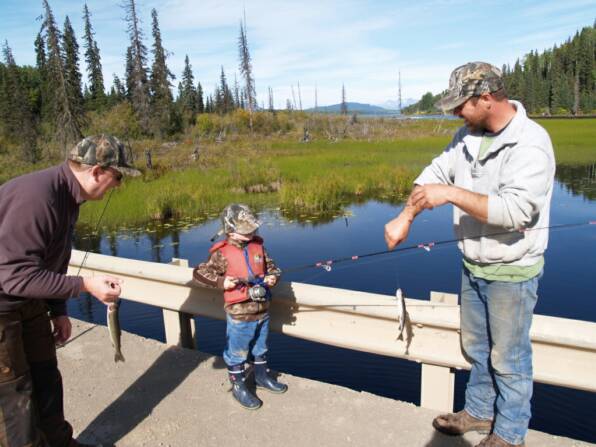 older of both, a nine-year old and large-bodied Billy. It was an unforgettable hunting day in the Babine Mountains: very clear and sunny, in a terrific landscape with a wonderful trophy…